Getting Started with Carefree M.D. Couldn't Be Easier
We want you to feel comfortable and confident with your health care choices. So we've compiled a list of the most common questions customers ask about Carefree M.D. below.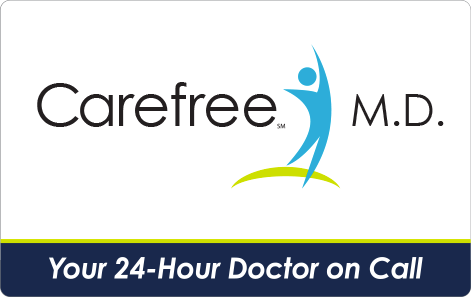 Frequently Asked Questions
Do I talk to "real doctors"?
Absolutely! We only use board certified and state licensed physicians (no nurses, nure practitioners, or physician's assistants). Each doctor is carefully assessed and goes through extensive training before they're allowed to take appointments.
Can the doctor prescribe medication?
Our doctors can prescribe many medications such as antibiotics over the phone.
Can I use it for my family?
You bet! One card includes you, your spouse, and all your kids. It's a perfect solution for busy moms, big families, and anyone who wants to avoid unexpected costs or fees.
Talk To A Doctor & Get Treatment
When it's time for your call, you can visit with your doctor over the phone (voice only) or on your computer, smartphone, or tablet (so you can see each other)*. There's no time limit, so feel free to ask all the questions you want.
Your doctor can diagnost an illness, create a treatment plan, and even prescribe medications when medically necessary and have them sent to your local pharmacy.
Can you treat me for 2 conditions at once?
Yes, if you have two conditions that are related (such as flu and nausea). If you have two separate conditions, we ask that you complete two separate sessions so that we can create two unique treatment plans for you.
Is there a contract?
Nope! You're free to cancel anytime you want.
Can you write me a note for work or school?
If you need a medical excuse for work or school, just request a call and use your diagnostic consultation summary to verify your condition.
How fast can I be connected if I want to talk to someone ASAP?
You can be connected with a doctor in under 30 minutes, on average.
What are the technical requirements to have a video call?
High-speed Internet connection Flash-enabled Web browser Webcam 1 gigahertz (GHz) processor 1 gigabyte (GB) RAM Windows or Mac operating system.
What conditions do you treat?
Our doctors are able to treat most common conditions, including cold & flu symptoms, allergies, respiratory infection, sinus problems, dermatology problems, bronchitis, urinary tract infections, and more.
Can I be turned down for a pre-existing condition?
Nope! This is not insurance so there is no limitation to using the program. We won't turn anyone down due to pre-existing conditions.
Is there a time limit on speaking with a doctor?
No way. The average appointment lasts 10 minutes, but you're free to talk to the doctor as long as you want.
What kind of medications can you prescribe?
Carefree M.D.'s physicians can prescribe many medications, such as antibiotics and antihistamines, over the phone. We do not guarantee prescriptions, however. And we can never prescribe controlled substances or nontherapeutic drugs. (You'll have to see a provider in person for that.)
Is Carefree M.D. available in my state?
Consultations through Carefree M.D. are not available in Washington.
How does the 30-day money-back guarantee work?
Take 30 days to try out Carefree M.D. Book as many appointments as you want. If you don't love your new easy access to healthcare, just let us know and we'll refund every penny.
Can you send information about my call to my primary care physician?
Of course. We're happy to send our records to any healthcare provider you want.
Do you keep my healthcare records private?
100%. All your records are completely private and secure on our encrypted server. We'll never share your information unless you give us your permission.
Can I use it for emergency situations?
No. If you are having a medical emergency, you MUST visit an Emergency Room or Urgent Care Clinic.
What happens if you can't treat me over the phone?
Your safety is our highest priority, which is why we only treat common conditions that can be safely diagnosed without visiting a doctor in person. If you need to see a provider in person, your doctor will refer you to the appropriate specialist.
Do you have Spanish speaking physicians?
Yes! Spanish consultations are available in all states.
What can I expect during my visit?
Once you're connected, you'll speak with a Care Coordinator. This person will assess your condition and updated your Electronic Health Record (EHR). Then you'll be connected to your doctor, who will diagnose your condition, develop a treatment plan, and answer your questions. Afterward, they will update your EHR so that you have secure access to all your medical history online.